Tubular breasts are a congenital condition that results in an irregular breast shape. Also referred to as tuberous breasts, this condition results in a breast shape that is more conical than round. In addition, the areola typically appears swollen. Tubular breasts often develop during puberty and can impact one or both breasts.
You may have tubular breasts if you experience the following symptoms:
The gap between your breasts is more than 1.5 inches
Cone-shaped breast appearance
Narrow, pointy-looking breast curvature
Constricted breast base
Breasts sag down instead of face forward
Areola appears enlarged
One breast is noticeably larger than the other
Disproportionately sized nipples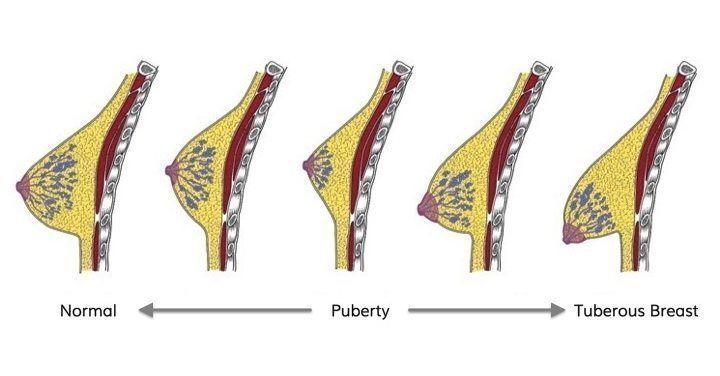 Plastic Surgery to Correct Tubular Breasts
If you'd like to correct tuberous breasts, Dr. Kleto can help. The breast surgery technique used will depend on the severity of your condition.
For situations involving mild forms of tubular breasts, Dr. Kleto generally recommends a one-stage procedure that involves the following process:
Breast implants are used to increase the size of underdeveloped breasts and to improve their overall contour
A breast lift is performed to address sagging issues
Breast tissue is scored to expand the lower pole and release breast constriction
Areolas are made smaller
Breast crease is lowered
In situations where tubular breasts are more severe, Dr. Kleto will use a two-stage procedure to correct the condition:
During the first stage, tissue expanders are placed to expand the skin covering your breasts.
Once this expansion is complete, stage two will be performed to replace the tissue expanders with breast implants. All of the steps used in the one-stage procedure will be completed during this phase of the two-stage procedure.
Contact our Knoxville Plastic Surgeon
Please contact Dr. Dean Kleto using the form on this page or call 865-524-2442 today to schedule a consultation. We serve patients in Knoxville and the surrounding areas of Tennessee.